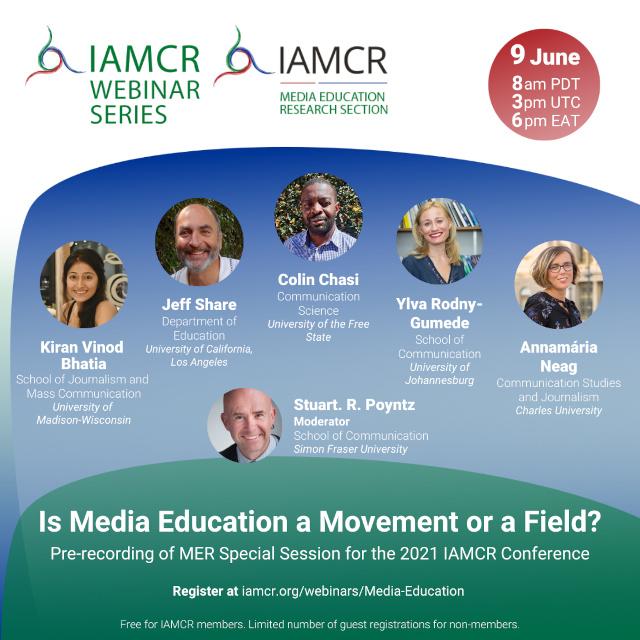 Is Media Education a Movement or a Field?
Pre-recording of Media Education Research (MER) Video Session for the 2021 IAMCR Conference
This webinar is over. See past webinars at IAMCR's Webinars Channel on Vimeo >>
Media education seems perpetually stuck in a legitimation crisis. In its quest for status and impact in institutional settings, this 'Mickey Mouse' area of study has emerged as a field of learning and research oriented around key concepts and curriculum development, with associated concerns for empirical evidence-based research from settings across the globe.
Meanwhile, in the public sphere, media education is called upon as a toolkit for civic engagement and democratic processes. Particularly in the precarious times of truthiness and alternative facts, media education can be reduced to a salve that can be applied through some workshops, webinars and good will. Or, it can be framed as a core component of training for the creative industries, makers' movements, and media production initiatives by and with youth.
On the other hand, amongst non-formal, community-based organizations and projects, a Freirean popular education approach remains a powerful anchor for media education practice, which is intended to yield empowerment and capacity building for individuals and groups. The challenge here is that as inroads are made in locking media literacy learning into formal education settings, media education is susceptible to hypostatization, but when it is left as only a core component of social movements, it also risks marginalization.
In this pre-recording of the MER Section panel for the 2021 IAMCR Conference, we ask participants to discuss the question of whether media education should be considered a movement or a field, and what the potentials and shortcomings are of each of these frameworks.
Sponsored by: Media Education Research Section
Chair: Stuart. R. Poyntz, School of Communication, Simon Fraser University.
Description: The format will consist of a brief introduction by the moderator, presentations of the speakers (7-8 mins each), followed by questions from the moderator. Speakers will briefly respond to the questions (2-3 mins each) and then we will have an open Q & A for the audience (15 mins) and a final wrap-up by the organizers (10 min).
Speakers
Jeff Share, Department of Education, University of California, Los Angeles
Ylva Rodny-Gumede, School of Communication, University of Johannesburg
Colin Chasi, Communication Science, University of the Free State
Annamária Neag, Institute of Communications and Journalism, Charles University
Kiran Vinod Bhatia, School of Journalism and Mass Communication, University of Wisconsin Madison
Who can participate: The webinar is free for all IAMCR members but space is limited.
Date & time: 09 June 2021 – 15h00 UTC / 11h00 New York / 16h00 London (BST) / 17h00 Paris / 18h00 Nairobi / 20h30 Kolkata / 23h00 Beijing.
Location: The meeting will take place on Zoom. Pre-registered participants will receive their personal invitations 24 hours before the webinar begins.
---
Webinars are free for all IAMCR members but space is restricted, so pre-registration is required. A limited number of guests invitations may be available before the events.
See past webinars at IAMCR's Webinars Channel on Vimeo >>
About the series: The IAMCR Webinar Series aims to open channels for engagement and participation in addition to the association's annual conference, keeping IAMCR members connected and engaged with regular dialogue about issues of importance to the international media and communication research community. Join us!