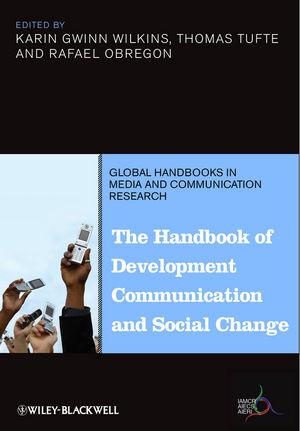 Edited by Karin Gwinn Wilkins, Thomas Tufte, Rafael Obregon, 2014

This valuable resource offers a wealth of practical and conceptual guidance to all those engaged in struggles for social justice around the world. It explains in accessible language and painstaking detail how to deploy and to understand the tools of media and communication in advancing the goals of social, cultural, and political change.
A stand-out reference on a vital topic of primary international concern, with a rising profile in communications and media research programs
Multinational editorial team and global contributors
Covers the history of the field as well as integrating and reconceptualising its diverse perspectives and approaches
Provides a fully formed framework of understanding and identifies likely future developments
Features a wealth of insights into the critical role of digital media in development communication and social change
This title is in the series Global Handbooks in Media and Communications, co-published by IAMCR and Wiley-Blackwell.
Visit Wiley-Blackwell's page for this book.
Reviews
"This handbook is a unique tool to profoundly understand the strategic use of communication for social justice. It closes critical gaps and articulates previous traditions. The editors have brought together a truly impressive collection of original texts and have opened new directions for the field." – Helena Sousa, University of Minho
"A weakness of literature on development communication is its division into streams with separate, partly artificial niches. This book brings the approaches together. It not only gives an overview of the field but it creates an integrated conceptual framework toward understanding communication, media, development, participation and social change." – Ullamaija Kivikuru, Helsinki University
"Professor Wilkins, Tufte and Obregon's edited handbook provides a comprehensive and critical assessment of the many roles that communication – both theory and practice- has played in development and social change over the past 60 years. It will be an invaluable resource for development communication specialists and scholars, and for anyone committed to advancing the rights and opportunities of historically neglected or oppressed communities." – John Mayo, Florida State University
Title: The Handbook of Development Communication and Social Change
Editors: Karin Gwinn Wilkins, Thomas Tufte, Rafael Obregon
Published: 2014
Imprint: Wiley-Blackwell
Pages: 528 pp
ISBN: 978-1-118-50531-1
Table of Contents
Introduction 1
Karin Gwinn Wilkins, Thomas Tufte, and Rafael Obregon
Part I Communicating Development and Social Change 5
1 Development Communication and Social Change in Historical Context 7
Pradip Ninan Thomas
2 Globalization and Development 20
Toby Miller
3 Political Economy of Development 40
James Pamment
4 Advocacy Communication 57
Karin Gwinn Wilkins
5 Equality and Human Rights 72
Cees J. Hamelink
6 Public Health 92
Colin Tinei Chasi
7 Indigenous Communication: From Multiculturalism to Interculturality 108
Alfonso Gumucio-Dagron
8 Communication, Development, and the Natural Environment 125
Elske van de Fliert
9 Emerging Issues in Communicating Development and Social Change 138
Karin Gwinn Wilkins
Part II Developing Strategic Communication for Social Change 145
10 The Strategic Politics of Participatory Communication 147
Silvio Waisbord
11 Rethinking Entertainment-Education for Development and Social Change 168
Rafael Obregon and Thomas Tufte
12 Storytelling for Social Change 189
Kate Winskell and Daniel Enger
13 Theater for Development 207
David Kerr
14 Media Development 226
James Deane
15 Economics and Communication for Development and Social Change 242
Emile G. McAnany
16 Peace Communication for Social Change: Dealing with Violent Conflict 259
Ana Fernández Viso
17 Social and Behavior Change Communication 278
Neill McKee, Antje Becker-Benton, and Emily Bockh
18 A Participatory Framework for Researching and Evaluating Communication for Development and Social Change 298
Jo Tacchi and June Lennie
19 Emerging Issues in Strategic Communication for Development and Social Change 321
Rafael Obregon
Part III Activist Approaches for Development and Social Change 329
20 Social Movement Media in the Process of Constructive Social Change 331
John D.H. Downing
21 Transnational Civil Society and Social Movements 351
Anastasia Kavada
22 Communication for Transparency and Social Accountability 370
Norbert Wildermuth
23 Citizens' Journalism: Shifting Public Spheres from Elites to Citizens 393
Clemencia Rodríguez and Ana María Miralles
24 Citizens' Media: Citizens' Watchdog Groups and Observatories 411
Rosa María Alfaro Moreno
25 Community Radio 426
Tanja Bosch
26 Youth-Generated Media 439
Joe F. Khalil
27 Video for Change 453
Tina Askanius
28 Emerging Issues in Activism and Social Change Communication 471
Thomas Tufte