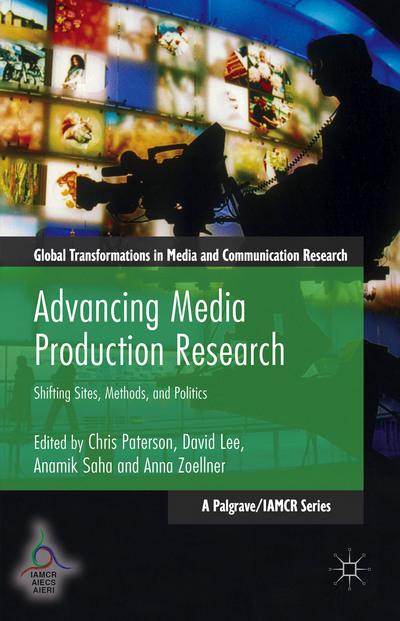 Advancing Media Production Research: Shifting Sites, Methods, and Politics
Edited by Chris Paterson, David Lee, Anamik Saha, Anna Zoellner
Richly detailed research from the point that our information and culture is manufactured – newsrooms, television studios, and myriad other culture producing institutions – is increasingly rare and difficult. Challenges to such research abound and are escalating, ranging from increasingly secretive corporate cultures which see little value in inviting observation of their work, to pressure on scholars to produce more with less – leading to faster and easier modes of research. The explosion in forms of cultural production and ever broader definitions of journalism make the object of analysis ever harder to identify for media production researchers. Chapter authors explore challenges to production research and offer novel approaches to revealing the hidden nature of media production through engagement with alternative theoretical paradigms and methodological innovation.
This is the fourth title in the Palgrave/IAMCR book series.
Go to the publisher's website to purchase a title in the series.
IAMCR members are entitled to a special 35% discount on this and all other titles in the series. If you are a member of IAMCR, email GlobalTransformations@iamcr.org with "global transformations discount" as the subject of your message for details on how to get your discount.
Table of contents
PART I: DEBATES AND TRANSITIONS
1. Production Research – Continuity And Transformation; Chris Paterson, David Lee, Anamik Saha, Anna Zoellner
2. On The Vagaries of Production Research; Philip Schlesinger
3. The Importance of Time In Media Production Research; David M. Ryfe
PART II: RESEARCH AND THEORY
4. Field Theory and Media Production: A Bridge-Building Strategy; Ida Willig
5. Studying News Production: From Process To Meanings; Daniel A. Berkowitz And Zhengjia Liu
6. News Media Ecosystems And Population Dynamics: A Cross-Cultural Analysis; Wilson Lowrey & Elina Erzikova
7. Micro vs. Macro: Reflection On The Potentials Of Field Analysis; Tore Slaatta
PART III: MATTERS OF METHOD
8. Applying Grounded Theory On Media Production Studies; Astrid Gynnild
9. The Qualitative Interview In Media Production Studies; Hanne Bruun
10. When You Can't Rely On Public Or Private: Using The Ethnographic Self As Resource; Michael B. Munnik
11. Investigating The Backstage Of Newswriting With Process Analyses; Daniel Perrin
PART IV: BEYOND THE NEWSROOM
12. From 'Poetics' To 'Production': Genres As Active Ingredients In Media Production; Ana Alacovska
13. Production Studies And Documentary Participants: A Method; Willemien Sanders
14. A Cultural Biography Of Application Software; Fredrik Lesage
Epilogue: Chris Anderson
ISBN: 9781137541932
Publication Date: November 2015
Formats: Hardcover, Ebook (EPUB), Ebook (PDF)
Publisher: Palgrave Macmillan
Series: Global Transformations in Media and Communication Research - A Palgrave and IAMCR Series
Publishers' URL: http://www.palgrave.com/page/detail/Advancing-Media-Production-Research/?K=9781137541932