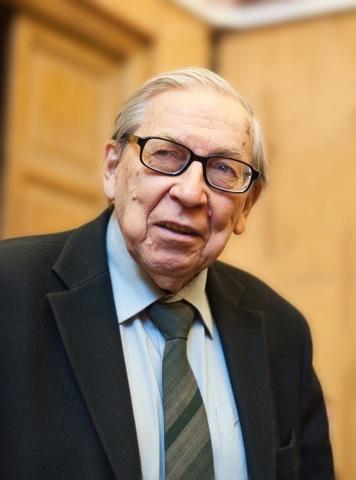 Yassen Zassoursky, President and former Dean of the Faculty of Journalism, Lomonosov Moscow State University and long-serving vice-president of IAMCR, died on 1 August 2021 at the age of 91 in Moscow.
Professor Zassoursky had a distinguished career as Dean of the Faculty of Journalism from 1964 till 2007, Head of Foreign Journalism and Literature Department at the Faculty, and later as President of the Faculty.
Professor Zassoursky had a long career in academia, researching and publishing works about theory and history of mass communication, American studies, history of American literature, transitional media models and comparative studies of media systems, information technologies and globalization. Professor Zassoursky was a leading figure in media and journalism studies and education – both in the Soviet Union and in the Russian Federation. He published over 260 works, including monographs and numerous academic articles in Russian, English and other languages. He served as chief editor of Vestnik Moskovskogo Universiteta. Seriya 10. Zhurnalistika journal. He received a number of state awards. He also received Lomonosov awards for his research (1976) and for his teaching (2001) work. In 2018, Yassen Zassoursky was awarded the title of Honored Journalist of Russia for significant contribution to journalism in the country.
Professor Zassoursky made an outstanding contribution to building and maintaining international collaboration with universities from different countries, fostering student and faculty mobility and launching international projects with institutions from all regions of the world. He was among the pioneers in the UNESCO-sponsored Centre for Higher Education in Journalism at the University of Strassbourg since the late 1950s. In 1968, he was elected as a vice-president of IAMCR. He held this position until 1988. He also led the IAMCR Section on Professional Education from 1978 until 1990. In 2006, he initiated a new Working Group on Post-Socialist and Post-Authoritarian Media. In the late 1970s, he served as advisor to the MacBride Commission at UNESCO.
Kaarle Nordenstreng from Finland, who first met Yassen Zassoursky at the 1966 IAMCR conference and since the 1970s worked with him on several projects, calls him a "person of extraordinary wisdom and wit". This testimony is certainly shared by innumerable colleagues around the world.
In an edited compilation of two interviews conducted by Michael Meyen (November 2012) and Kaarle Nordenstreng (September 2015) in Moscow, Yassen Zassoursky talks about his academic career, his commitment in IAMCR and promoting mutual understanding in the international arena. https://blexkom.halemverlag.de/iamcr-zassoursky/