In this letter to the members, IAMCR president, Janet Wasko, reflects on IAMCR's 2019 conference held in Madrid last month.
---
Dear Colleagues,
It has been over a month since the Madrid IAMCR conference and I sincerely hope that those of you who attended have returned home refreshed and renewed. We must again express our gratitude to the Local Organizing Committee and everyone who planned and participated in the Madrid conference. The event was especially challenging for organizers and Section/Working Group heads and your efforts are greatly appreciated.
Looking back at the conference, I would like to note two themes that I think were represented at the Madrid conference: diversity and mutuality.
Diversity
IAMCR conferences have historically sought to include a plurality of voices and global representation, including everything from locations, attendees/members, themes and plenary presentations.
Locations: We meet in different parts of the world. For many years, IAMCR conferences regularly shifted between locations in the "first", "second" and "third world". These days, when those terms are no longer used, we move between continents – North America last year, Europe this year, Asia in 2020, and Africa (to be confirmed) in 2021. Of course, this is appropriate for an international organization as we share and experience diverse settings and contexts, but it also means that each conference is different. The conference location inevitably shines a light on themes and perspectives that are particular to that location, ensuring that they are brought into the mix to engage with, challenge or contribute to those of other regions. The ever-changing diversity of cultures, languages, political sensibilities, methodologies, issues and histories leave an indelible mark on IAMCR as an association, and on each of us as individual researchers, teachers and practitioners.
Attendees/Members: This year's conference – the largest in IAMCR's history – welcomed 1,785 participants from 83 countries (we currently have members in 99 countries). While Madrid proved to be a particularly popular location, our conferences have been growing steadily in recent years. We have also been experiencing steady increases in membership – from 1,600 members in 2014 to 2,800 today. We have also emphasized diverse participation through increasing the number of travel grants awarded, in addition to the rotating location policy noted above. Women accounted for 59% of the 2019 participants and students, who participate fully in IAMCR conferences, accounted for 28% of participants.
Themes: General themes for our conferences change each year and are negotiated between the Local Organizing Committee, the Executive Board, and the International Council, with special attention to global issues and topics. This year's overall theme focused on communication, technology and human dignity. While the overall themes are typically addressed by some of the plenary speakers and a selection of the panels in the main programme, most panel presentations focus on the issues and themes relevant to our 32 Sections and Working Groups, guaranteeing a wide diversity of discussion and debate.
Plenary presentations: IAMCR has traditionally attempted to feature a range of plenary speakers representing a variety of perspectives. Speakers are media and communication scholars and practitioners, including journalists and media activists, as well as academics from disciplines outside our field, who bring alternative perspectives to our discussions and debates.
The range of this year's plenary speakers was indicative of differences in current discussions of the role of media and communication in the emerging digital world. The plenaries showcased a wide variety of approaches and perspectives. Members were occasionally challenged by some of these perspectives, while simultaneously challenging others. A plethora of panel presentations focusing on a wide variety of themes and issues from different perspectives, represented the high-quality research being done by our members and offered ample opportunity for debate.
In addition, a series of partner sessions demonstrated IAMCR's expanding relationships with other international and regional organizations also contributed to a diverse program. These included UNESCO's panel on artificial intelligence, UNICEF's session on a new research funding proposal, ECREA's panel on rethinking journalism, ALAIC's panel commemorating Latin American researchers, and ICA's panel on "truth, trust and populism."
Mutuality
Overall, it seems to me that the Madrid gathering also represented a good example of the mutuality that many have observed and experienced at IAMCR conferences over the years. Not only did we debate, discuss, eat and dance together, but we also celebrated – new members, new books, and newly elected section and working group heads, as well as award winners, travel grant recipients, and even retiring and departed professors. This sense of a mutually respected community of scholars contributes to the organization's special character, which emphasizes collegiality and cooperative interaction among members. The work of the organization is guided by this spirit, as we organize conferences and plan other activities that allow us to share our work, as well as to support media and communication researchers/research that promote diversity, equality and justice.
This spirit is specifically represented in the theme that has been chosen for the IAMCR 2020 conference in Beijing: Reimagining the Digital Future: Building Inclusiveness, Respect and Reciprocity. We look forward to discussions and debates that embrace these characteristics of diversity and mutuality, emphasizing inclusiveness, respect and reciprocity, as we plan for the Beijing conference over the next year. More information about the conference is included in this newsletter.
Finally, please recall that 2020 is an election year for IAMCR's Executive Board and International Council. We strongly encourage members interested in further developing IAMCR's commitments and goals to consider becoming candidates for these positions. So, stand by for election information, which will be circulated soon.
Best wishes,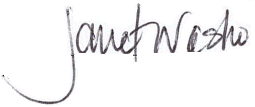 Janet Wasko
President, IAMCR