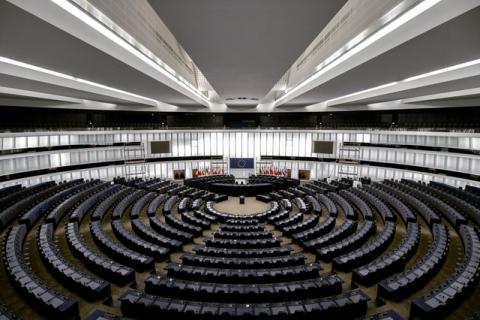 Join us for the conference opening, closing, and thematic plenary sessions (11- 15 July 2022)
IAMCR 2022 will feature five plenary sessions: the opening and closing plenaries and three thematic plenary sessions during the conference week. Plenary sessions will be freely accessible online to all. Once they have been streamed for the first time during the conference week, their recordings will remain online and freely accessible to all, whether IAMCR members or not.
Opening Plenary: Communication Research in the Era of Neo-Globalisation (11 July 2022)
Chair: Changfeng Chen (Tsinghua University)
Welcome remarks: Nico Carpentier (IAMCR President, Charles University), Usha Raman (IAMCR VP, University of Hyderabad), Andrea Medrado (University of Westminster), Binjie Liu (Tsinghua), Xiaoling Zhang (Xi'an Jiaotong-Liverpool University), Chris Harris (Xi'an Jiaotong-Liverpool University.
Keynote: Manuel Castells (Universitat Oberta de Catalunya, University of Southern California), "Rethinking the Information Age: Communication in the Network Society".
Communication and Media Research in the Era of Neo-Globalisation: Asian Perspectives (12 July 2022)
The two years of the COVID pandemic have seen great contributions from communication and media scholarship in shaping and influencing public policies, health promotion initiatives, and global health (in) equalities. In the post-pandemic era of volatility, uncertainty, complexity, and ambiguity, however, communication researchers who seek to build on prior work and address real-world issues such as public health, climate change, and sustainability need to situate their research within the broader social, cultural, and political era of neo-globalisation.
The agenda of the neo-globalization era grounds itself on trade exchange and intercultural communication, highlighting the centrality of soft power and co-cultural harmony in the course of reorganizing the world order with the West as its core. Accordingly, in the contemporary world, communication researchers need to respond to emerging questions and challenges in ever-changing global media contexts.
This plenary session, with a keynote speech and a panel discussion, will seek to sketch out and develop the central theme of IAMCR 2022, bringing together different perspectives from global and Asian communication scholars into a productive conversation, and exploring future agendas for research in the era of neo-globalisation.
Keynote: Changfeng Chen (Tsinghua University)
Panellists: Zhengrong Hu (Chinese Academy of Social Sciences), Jantima Kheokao (ANPOR), Dadang Rahmat Hidayat (Padjadjaran University), "Communication and Media Research Orientation on certain issues", Yu-li Liu (City University of Hong Kong), "User, Technology, and Policy in the Era of Neo-Globalisation"
Talking with Technology: Global Dialogues and Diverse Civilizations (13 July 2022)
Developments in communication technologies continue to influence the ways in which people construct their identities and values, interact with close others, acquaintances, and strangers around the world, and their engagement in local and global civic life.
Nowadays, people are more than ever connected through communication technologies and different media systems, especially in the globally isolated world due to the pandemic. The recent fascination with the so-called 'metaverse' as a virtual universe that blends aspects of digital and communication technologies such as live-streaming, gaming, cryptocurrencies, augmented reality, and social media is just one example among many that underscore how technologies enable the merge of physical and mediated worlds.
With the changing landscape of media systems and possibilities of simulated media environments, boundaries between virtual, augmented reality versus the physical, real-world reality are becoming even more blurred. Associated with these phenomena are questions concerning revised definitions of cultures, communities, and connections.
With a keynote speech and a panel discussion, this session will center upon the influence of global communication technologies and media systems on the construction of cultural communities, identities, and values, and vice-versa. Specifically, it will look at the economic, political, cultural, and ethical questions for media and communications research arising from new forms of communication and social construction, and explore the ways of enhancing the dialogue of diverse civilizations, societies, and groups with resort to emerging social and cultural dynamics shaping media technologies and new communication platforms.
Keynote: Daya Thussu (Hong Kong Baptist University)
Panellists: Yuezhi Zhao (Tsinghua University), viola milton (University of South Africa), Terry Flew (University of Sydney), Rasha Abdulla (American University in Cairo)
Research (Ex)tensions: When Academia Meets Policy (14 July 2022)
Media and communication researchers have for long been working across academic-industry-social sector divides, and each such engagement brings a different set of challenges and tensions between the world of research and that of policy.
The desires and commitments of researchers to circulate their work outside the academy, and gain influence and take-up from policy-makers, journalists, media makers, and designers, as well as the technology and communication industry, civil society, and institutions have been complicated by new developments and challenges – just as new avenues for collaboration and communication have been opened up, not least by digital media platforms, and the urgent health, social, political, and policy challenges of the pandemic.
Recent years have seen a growing pressure on academics in the social sciences and humanities to demonstrate "relevance" in terms of applicability of their work, particularly in fields that seem to more readily connect to social policy and programming. Even at early career stages, scholars are encouraged to apply for grants that involve collaborations that make possible such extensions of their work into the practical realm.
New issues may surface (in good and problematic ways) when the collaborations are inter- or transnational, with multiple institutions bringing in a variety of different perspectives and values about society, polity, and economy. Add to which, the contexts and dynamics for such collaborative relations vary greatly across different locations, institutions, and kinds of universities and partner organization settings.
This panel explores these challenges and tensions across different forms of collaborations and how they shape not only the projects themselves but thinking about research and practice. Panelists will also consider the routes to influence policy circles, agenda, and actors.
Chair: Gerard Goggin
Panellists: Sonia Livingstone (London School of Economics), Vinod Pavarala (University of Hyderabad), Julie Posetti (Deputy Vice President, International Centre for Journalists), Eduardo Villanueva (Pontificia Universidad Católica del Perú)
Closing Plenary and Roundtable: From IAMCR 2022 to the Future of Conferencing (15 July 2022)
The first segment of the closing plenary will entail a roundtable discussion exploring the future of IAMCR conferencing. This conversation will be followed by closing remarks from the President of IAMCR, IAMCR 2022 conference hosts – Tsinghua University and Xi'an Jiaotong-Liverpool University (XJTLU) –and a presentation of next year's conference – IAMCR Lyon 2023.
Chairs: Anbin Shi (Tsinghua University), Min Hang (Tsinghua University)
Panellists: Kaarle Nordenstreng (Chair of LOC IAMCR 2020), Dorothy Njoroge (Chair of LOC IAMCR 2021), Francis L. F. Lee (Chinese University of Hong Kong)
Closing remarks: Changfeng Chen (Tsinghua University), Nico Carpentier (IAMCR President, Charles University), Tabe Bergman (Xi'an Jiaotong-Liverpool University)